Find Routing Number By Bank or City Name
WHAT IS A ROUTING NUMBER OR ROUTING TRANSIT NUMBER (RTN)?
Bank Routing Number or Routing Transit Number (RTN) is a nine digit number used for identifying a financial organization for a transaction in the United States (US). The number appears on the bottom of cheque, it assists in identifying the financial organization for which the cheque was signed. It is used for the electronic routing of funds (ACH transfer) from one bank account to another.
Routing is used along with the recipients account number for domestic monetary transfers. However, to make an international inward monetary transfer, you require SWIFT code along with Routing Number and Account Number.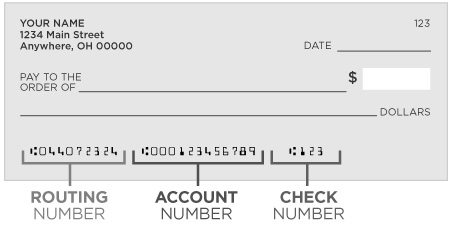 DECODING A ROUTING NUMBER
The Routing Number comprises of nine digit number.
The first two numbers represent any of the 12 Federal Reserve Banks:
Primary
(01–12)
Thrift
(+20)
Electronic
(+60)
Federal Reserve Bank
12
32
72
San Francisco
11
31
71
Dallas
10
30
70
Kansas City
09
29
69
Minneapolis
08
28
68
St. Louis
07
27
67
Chicago
06
26
66
Atlanta
05
25
65
Richmond
04
24
64
Cleveland
03
23
63
Philadelphia
02
22
62
New York
01
21
61
Boston
The third number represents Federal Reserve check processing center which was originally assigned to the bank.
The fourth number is "0" in case the bank is located in the Federal Reserve city. In case it is any other numbers in between 1–9 it represents the allotted Federal Reserve district area.
The rest of the numbers represent the bank branch number.
HOW IS THE ROUTING NUMBER GENERATED?
The Routing Number was developed by the American Bankers Association in 1910. Initially it was designed for bundling, sorting and shipment of paper checks back to the drawer's account. With time, different payment methods were developed and the system was enlarged to assist different payment methods.
The Routing Number is mandatory for Federal Reserve Banks to process Fedwire funds transfers. It is also necessary for Automated Clearing House to process bill payments, direct deposits and other such automated transfers.